Ne en 1917 a Mons en Belgique, Raymond Salmon se passionne dans l'enfance pour le violoncelle et il poursuit des études au Conservatoire National Supérieur de Paris. Il joue alors dans différentes formations musicales. Il aborde tous les répertoires, au violoncelle en orchestre classique et au saxophone dans des groupes de variété. Parallèlement, il écrit de la musique et enseigne en donnant des cours particuliers. Par la suite, à l'age de cinquante ans il devient professeur de musique au collège. A la retraite depuis 1984, il se consacre plus exclusivement a la composition musicale et organise de fréquents concerts dans de petites salles parisiennes.
Born, 1917 at Mons , Belgium, Raymond Salmon was attracted to the cello at an early age and studied music at the Conservatoire National Superieur in Paris. After graduation, he was a cellist in classical orchestras as well as playing the saxophone in popular bands. He also wrote music and taught students privately. He subsequently became a high school teacher in literature and music. Retired since 1984, he returned to writing music and has organized regular concerts at small venues in Paris.
L'œuvre musicale de Raymond Salmon est extrêmement riche et diverse. Il compose son premier morceau de violoncelle "Tambourin Hongrois" en 1934 et reçoit le prix de composition au concours international JB Viotti en 1952. Il affectionne la musique romantique et aussi Debussy & Faure. La musique de chambre tient une grande place, on écoutera avec ravissement les riches mélodies de "reliefs" un duo pour violoncelle ou encore, dans un style plus populaire, les "esquisses provençales" dont l'atmosphère est remplie d'une gaité pastorale. Voici une liste incomplète d'une œuvre importante et néanmoins encore très méconnue.
The music of Raymond Salmon is rich and diverse. He wrote his first piece for the cello "Tambourin Hongrois" in 1934 and was awarded the JB Viotti Internationnal Composition Prize in 1952. He remains greatly influenced by the romantics and the French School (Debussy, Faure). Chamber music has always had a special place in his work and one can appreciate and absorb the rich melodies in his cello duet "Reliefs" or "Esquisses Provençales" which is of a more popular style full of pastoral delights. Here is a list of an important work much of which needs to be brought to public attention.
MUSIQUE DE CHAMBRE / Chamber music
Pastorale (trio pour 2 violoncelles et guitare)
Pensée (Violoncelle et piano, voir vidéo ci-dessous)
2 quatuors pour cordes
Quatuor pour saxophone
Fresque (Octuor pour violoncelle/ Cello Octuor)
Relief (duo pour violoncelles)
Evocations (duo piano et violoncelle/ cello and piano duet)
Esquisses Provençales (trio pour clarinette, flûte et violoncelle)
PIECES SYMPHONIQUES
Concerto pour Violoncelle - Esmeralda - Danse du fouet
MUSIQUE RELIGIEUSE
Messe - Notre père - Requiem
MUSIQUE VOCALE
Le beau fleuve de Loire - Promesse - J'ai rendez-vous - Les Iris - Dernière fleur - Clochette de mai etc...
PIANO
Melancolie - Reflet - Arabesques - Timbres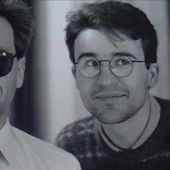 Stance - original by Salmon Philippe and Raymond
Chanson composée en 1982 à partir d'un poème de Jean Moréas - A song I composed from a poem of Jean Moreas in 1982 . You can download free the song here / téléchargemet gratuit du mp3 ...
UNE OUVERTURE A D'AUTRES STYLES
Malgré une formation classique, Raymond Salmon reste ouvert a des genres assez différents. Il écrits de nombreuses chansons et réalise entre 1985 et 1994 avec son fils Philippe des enregistrements et des concerts dans les styles folks et jazz. Voici quelques titres qu'ils jouent ensemble.
A DOOR TO OTHER STYLES
Despite a classical background, Raymond Salmon remains very attuned to a wide range of music including Pop. He has written the music for many songs and collaborated with his son Philippe recording and performing folk concerts between 1985 and 1994. Below is a list of pieces they composed and performed together.
TEXTES PEDAGOGIQUES écrits et publiés par Raymond Salmon:
Cours complet d'harmonie (Ed. Philippo , Paris) destine a la formation des chefs d'orchestres.
Vingt-quatre leçons de solfège (Ed. Lemoine , Paris)
Vingt-quatre pièces de flute a bec (Ed. Martin, Macon)